Dr. Jonathan Noble provides comprehensive eye exams for adults and children, treats common and rare eye diseases, and fits a wide variety of contact lenses. Our mission is to provide you and your family with professional, affordable, and state-of-the-art eye exams. Dr. Noble, and his highly trained staff, are well known and respected in the local community. We invite you to browse our website to learn more about us, and look forward to establishing a lasting relationship with you.
Cataracts are so incredibly common that, by age 80, more than half of all Americans will either have cataracts currently or have had one removed.
When looking at an object, light is received through the pupil. It is then focused onto the the back of the eye, where there is a collection of light sensitive cells called the retina. A cataract occurs when the eye's normally clear lens becomes fogged up, making it hard or even impossible for light to travel properly through the lens and be clearly focused on the retina.
Among other symptoms associated with cataracts, you may experience painless, blurry vision, or faded or yellowed colors. Jonathan R. Noble, OD in Ashland, Virginia adds,"Increased difficulty seeing at night or in dim lighting is another easily overlooked symptom. You should consult your eye care professional for an appointment if you have any of these symptoms and, if diagnosed, be sure to have regular check-ups thereafter.
---
Q&A with Dr. Noble
Dr. Noble Answers Your Eyecare Questions
What is diabetic retinopathy?
Diabetic retinopathy is a condition which can occur at any stage or type of diabetes. In fact, many times diabetes is identified during an eye exam in a person who never suspected they may have diabetes. It is caused by damage to the very delicate blood vessels within the retina. Over time, these blood vessels may start to leak blood and fluid into the retina or other areas of the eye. If the condition progresses, new vessels may begin to grow within the retina, which places the retina at risk of additional and sometimes sudden complications including internal bleeds and retinal detachment.
Apr 16, 2018
April is Women's Eye Health Month in the USA and May is Healthy Vision month in Canada too, so let's take the opportunity to look at some tips for maintaining eye and vision health, with a special focus on women. ...
Why do I Need Regular Eye Exam?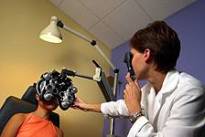 While most people schedule regular check-ups with doctors and dentists, many are not aware of the importance of an annual visit to the eye doctor. Regular eye exams can be the key to the early detection and treatment of emerging vision problems, eye diseases, and a number of other health issues. When you come to Dr. Noble for an eye exam, you will receive comprehensive service designed to find and correct any vision or eye issue. Don't take good vision for granted, schedule an appointment today!
My son said he got great service and has asked to make Dr. Noble his primary eye doctor. We used to go all the way to the West End, so it's nice to have a good doctor in the Ashland area....
Dr. Noble takes the time to listen to your concerns and will see you immediately if you have a problem....